Fosber America, Inc. Leads the Corrugated Industry in Providing State-Of-The-Art Training
Fosber Trainers provides premium industry training.  They bring real world experience into the classroom (as many of our trainers transitioned from a service technician). We utilize a combination of hands-on training, interactive classroom, and virtual classroom instruction to enhance the learning experience. The Fosber Trainers take the time to understand the student's needs. We study how the student executes their current tasks and learn the terms that the student is familiar with. The Trainers then build the customized training class upon this base knowledge to instruct the new procedures.
We offer classes in 3 formats: in-house Factory School, On-Location School, and on-line with our new Virtual School.
Factory School:  Come to Green Bay and experience our state-of-the-art training facility to learn operational, maintenance, and technical skills. Standard courses are offered several times per year.  Specialized training and Customized classes occur as needed.
Virtual School:  Most of the Factory School courses can be covered utilizing communication technology to bring the learning directly to the employee.  Virtual Schools deliver some of our more popular in-house courses in a 4 hour per day online format.  Virtual Schools can also be tailored to provide custom training where it might not be feasible to bring people to Fosber or to send a trainer on location.
Onsite Schools: Numerous classes that are offered through various formats can also be taught at your facility. Machine specific classes are most effective onsite, allowing your operators and/or maintenance technicians observe.  They can make adjustments and ask questions about the machines they work with every day.
Maintenance Training
Fosber's effective Training Schools ensure that your maintenance department is armed with the skills to quickly troubleshoot the machine and efficiently perform preventative maintenance procedures. This newfound knowledge will minimize downtime and increase performance.
We offer a series of electrical schools, including a 4-hour Virtual School – Electrical Schematic Reading, 3-day Factory School – Basic Electricity.  Unico Drives and Cut Control and Emergency Systems schools are offered both as Factory School and Virtual School formats.
Operation and Maintenance manuals can be ordered as PDF files on a flash drive or hard copy.  Feel free to contact our Training Department with any questions or concerns you may have.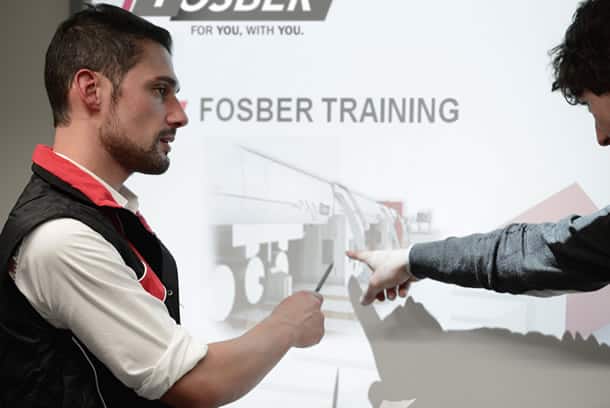 Class Schedule
Electrical Schematic Reading – October 9, 2023
(PM – Virtual)
Syncro Process Control – October 24-25, 2023
(Fosber Training Center)